Artificial intelligence make-a-thon: Life enhanced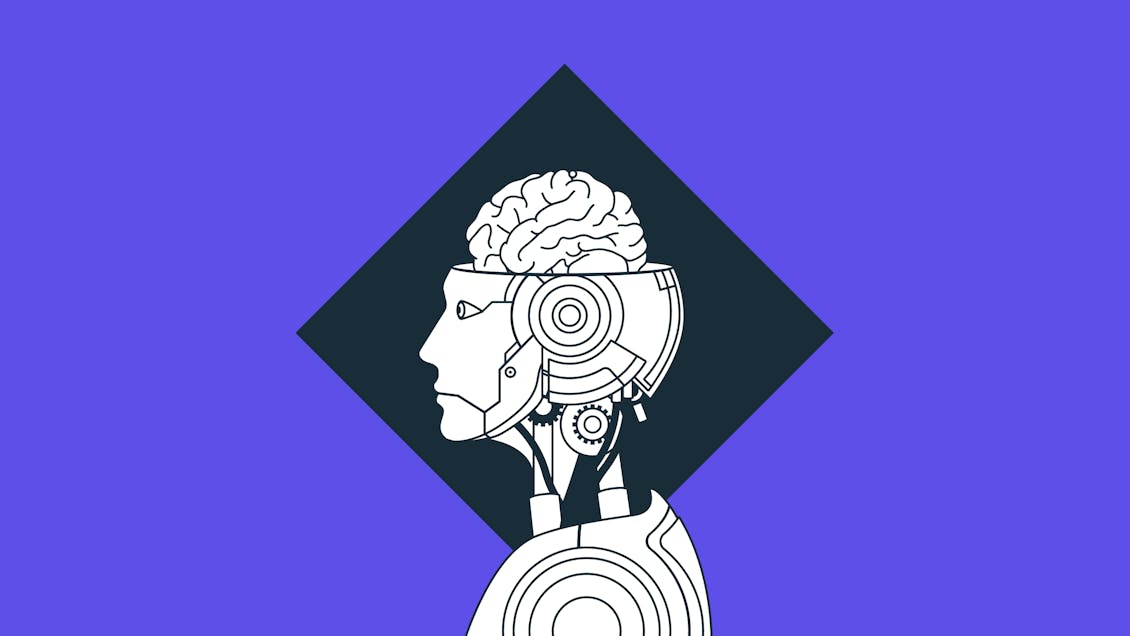 How can we take an ordinary experience and make it extraordinary with applied AI?
Recently, Modus held its quarterly make-a-thon — our hands-on team-building exercise where multidisciplinary teams spend a few hours innovating new ideas. Each quarter, our trusty Modus Labs team selects a theme for the activity — past make-a-thons have included generative art and Web3 technology. This time, our mission was to reimagine an experience by using the technology that's been trending all year: artificial intelligence.
Make-a-thons not only allow us to work with colleagues with whom we might not otherwise collaborate but also encourage us to stretch our skills. Before diving into work, our Labs team introduced us to what AI is, exactly. (See our AI primer to understand the basics.) They also shared Spotify as an example of applied AI. The music and podcast streaming app uses AI to make hyper-personalized recommendations, based on continuously collected user data. As a result, Spotify serves as users' personal DJ, delivering a richer experience than its competitors.
With just a few hours to complete our mission, we got to work envisioning how to supercharge an existing experience with applied AI. After sharing our pitch decks for our ideas, we voted for our three favorite concepts. Here are the winners: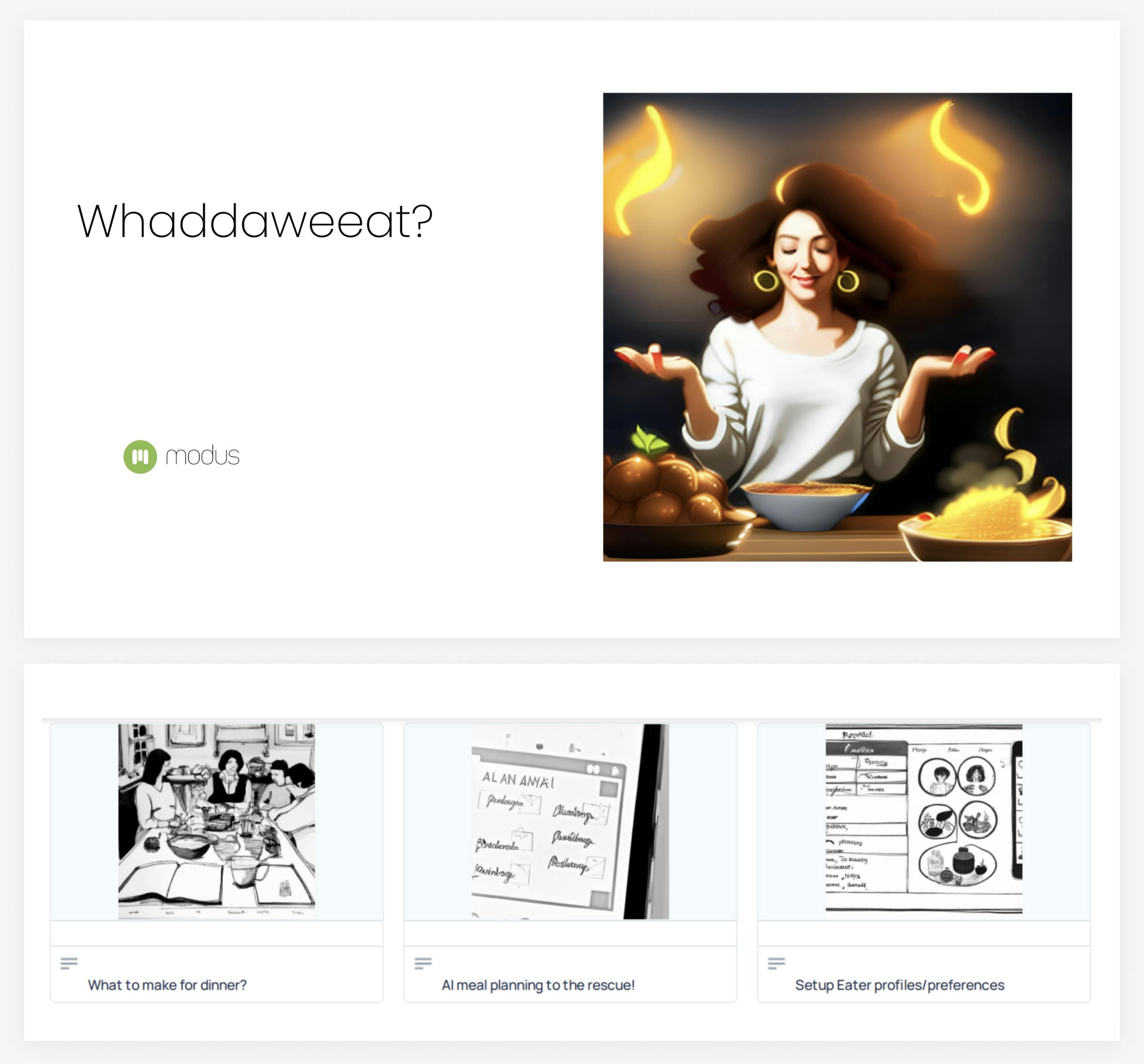 Third place: Whaddaweeat?

The existing experience this team chose to disrupt is one we can all relate to — the struggle to decide what to eat for dinner. The Whaddaweeat App would create profiles for each family member, mapping their individual preferences and restrictions. That data would be cross-referenced with parameters such as available ingredients and equipment, chef skill level, and environmental data such as weather to come up with optimized recommendations. The app will even create online shopping orders and give step-by-step cooking instructions, so the family no longer has to stress over mealtime.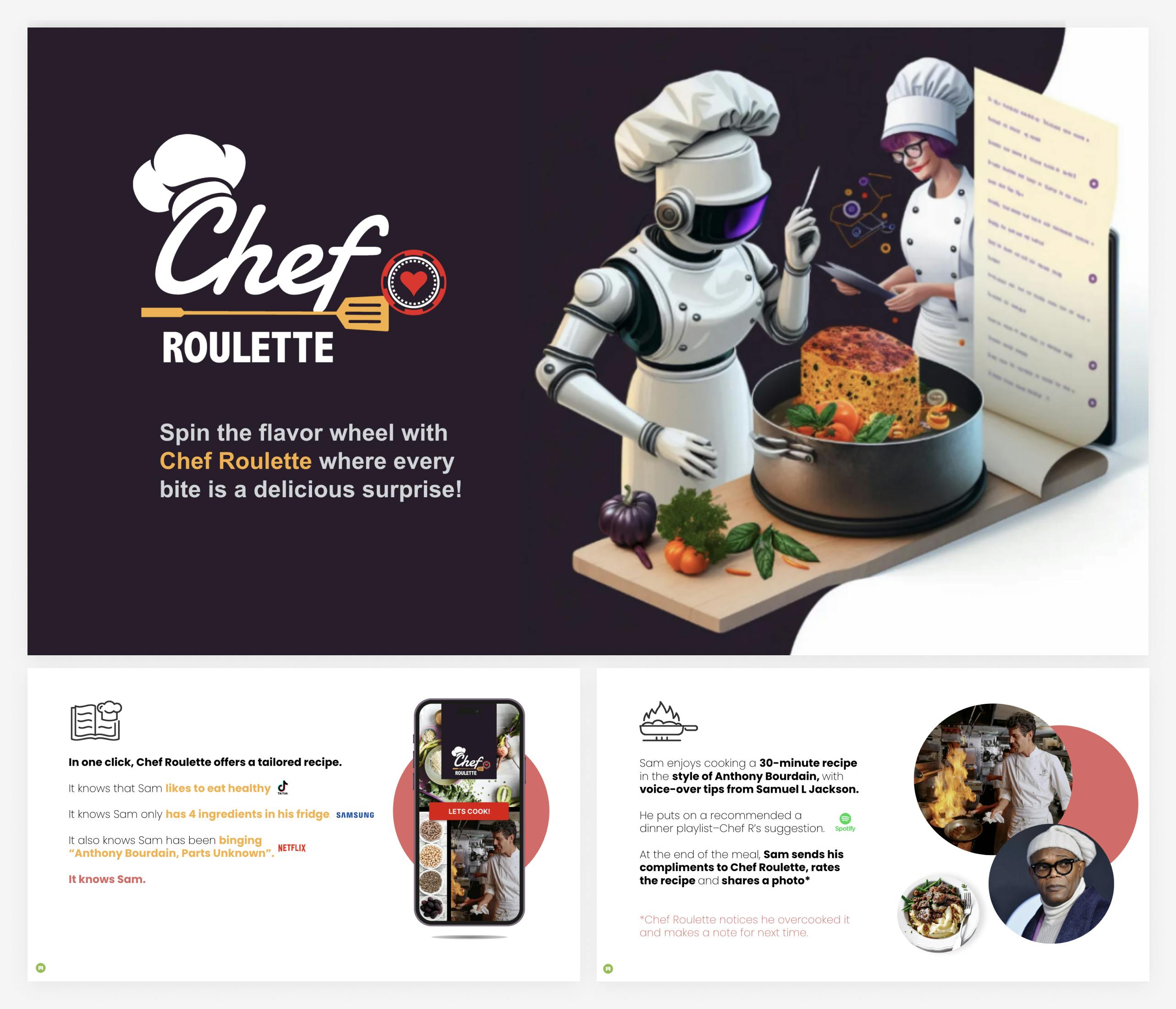 Second place: Chef Roulette
Ok, we know what you're thinking — another food app? Modus is a hungry bunch, what can we say? This app not only optimizes meal planning based on what you have in your smart fridge, but it also knows which movies and shows you've been bingeing. So Chef Roulette will recommend a meal using the ingredients you have in the style of Anthony Bourdain and cooking instructions narrated by Samuel L. Jackson, for example. It will even suggest the perfect soundtrack to your meal — how's that for home entertainment?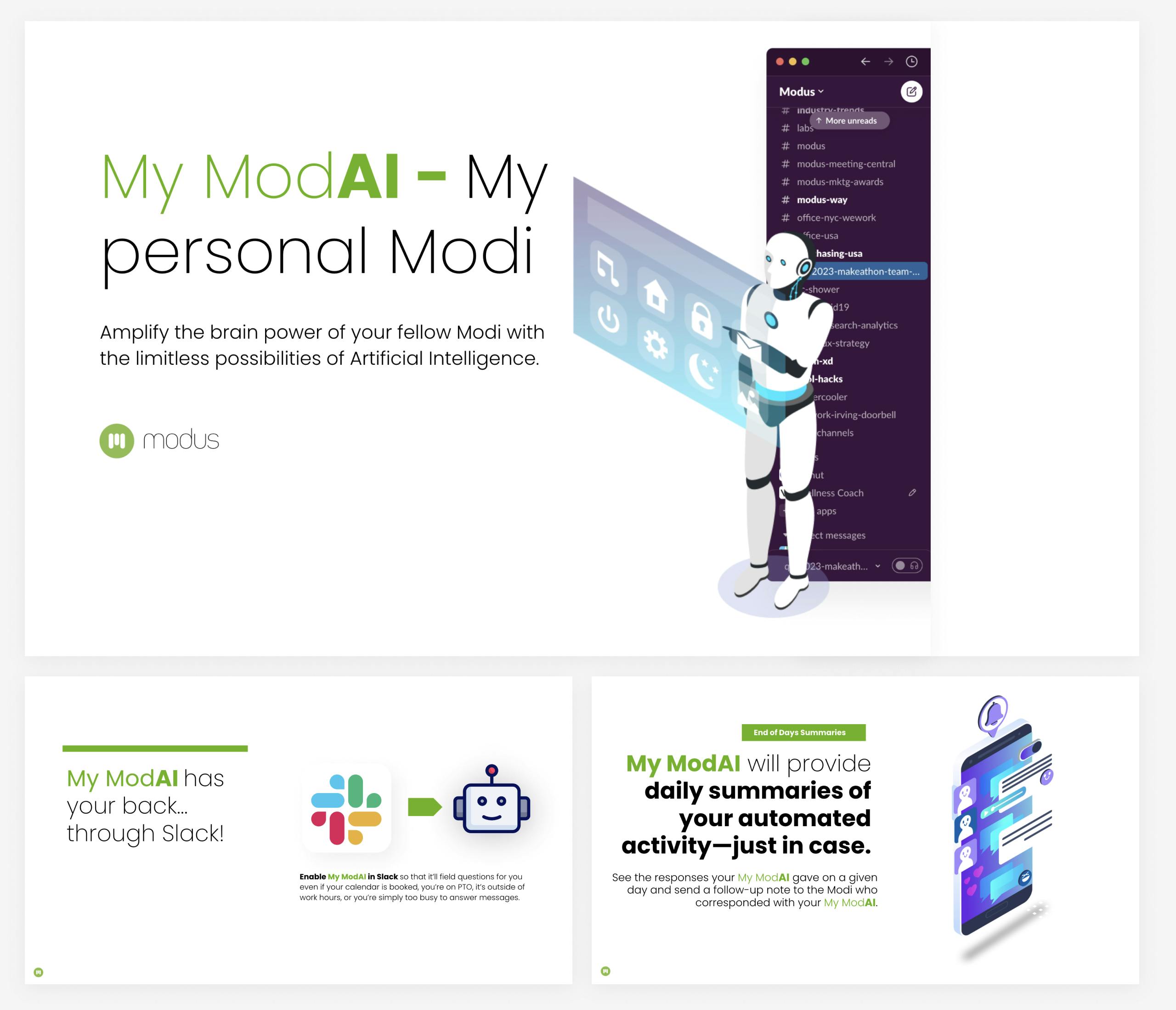 First place: My ModAI
We all know the feeling — your colleagues want to reach out to you for your input on something, but they know you're busy, on vacation, or otherwise unavailable. After all, we can't clone ourselves — yet. But what if AI could provide some sort of stand-in? Enter My ModAI, a proposed Slack integration. Instead of setting an away message, you could activate your My ModAI chatbot on Slack to respond to questions while you're not tethered to your device. The app would be trained on a large volume of your conversational data in order to answer questions in your tone of voice, level of expertise, and problem-solving style.

Perhaps this all sounds too good to be true — AI can't replace us, not yet! The My ModAI team has developed some safeguards. Users can see a daily summary of their My ModAI's performance to make sure the bot didn't give out bad information, and provide feedback to improve the output.
The future is now
While it's always fun to ideate how humans will level up life in the future, these applied AI ideas don't feel too far away. As AI projects move out of the sandbox, human intuition combined with reliable data will set the path for AI's potential to augment our everyday.