Cultivating a culture of innovation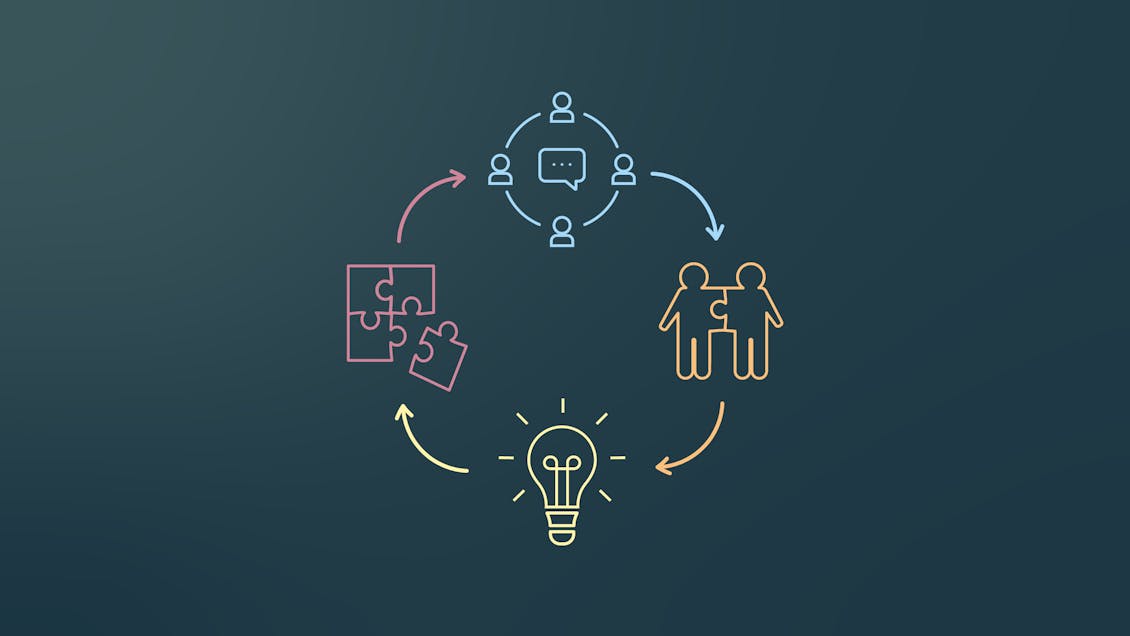 Nurturing an innovative workplace can be the difference between stagnation and revitalization
Whether it's a trusted business, a steadfast marriage, or maintaining optimum health, the long-term success of pretty much anything lasting is predicated on a "marathon" mindset: Slow-and-steady is the strategy for not only making it beyond the first few miles, but for having enough energy to keep running until the end. Of course, we all know, when staring down the idea of a long run — or launching a new business project — it's often hard to get started. So there's a case to be made for knowing when to sprint.
At Modus, we believe in the ability of innovation sprints to bring together a cross-section of colleagues to creatively tackle problems, and to generate new ideas for a company's big next thing. We've previously shared with you how to prepare for an innovation sprint — but in order for sprints to happen, a climate of innovative culture has to already exist. Otherwise, the sprint has no legs.
"Evolve or die" was the mantra of nearly 4,500 participants in PwC's 2023 Annual Global CEO Survey; but in an economy that's giving companies agita about everything from making payroll to retaining trusted talent, "uncertainty" makes it hard to focus on cultivating a culture of innovation.
Prioritizing an innovation mindset is no longer a nice-to-have: it's a necessity.
Modus is a digital agency whose products elicit experiences that transform-perform-ignite-delight. To keep relevant over the last two decades, we've had to dive into our own beliefs about why maintaining an innovation culture is crucial to our lasting success. We see a lack of innovation culture as a risk: Ask teams to do the same tasks over and over again, and it's likely that creativity will suffer and they will burn out. And in the era of AI automation, companies with cultures that are open to transformation will be more prepared to leverage tech to drive growth.
Wondering how to get started with innovation culture? Here's our take on how any-size company can benefit from cultivating a culture of innovation...especially when the economy feels shaky. (Spoiler: It's not as complicated or scary as it sounds.)
Innovation culture: What it is
The phrase "building an innovation culture" may sound heavy (especially if you're a small business), but implementing a culture of innovation — even if it's never been a part of your business' DNA – simply means your company is open to encouraging its people to be brave enough to think about and share new ideas, no matter how prescriptive or esoteric. Granted, that also means a company has to be willing to risk the time, energy, and resources it takes to ideate, research, and develop new things, and also be willing to see some of those things fail…but that's how evolution works.
We think a lot about how best to foster an innovation culture at Modus. We think it comes down to four key things:
Communication
Collaboration
Decision-making
Problem-solving
Sometimes, we focus on sprints that bring multidisciplinary groups of colleagues together, like we talked about in this feature on preparing for an innovation sprint. Sometimes, we give team members space for working on their own projects (which we'll talk about a little later). Why would a company do these things on "company time?" We believe that keeping our creative employees fresh helps them be more expansive, which ultimately recharges their batteries after the mindspace they put into their Modus work during "business hours," and when they're off the clock, too. Try doing the same at your company and maybe you'll see productivity, electricity and positivity increase, too…all of which are spokes of any innovation cultivation wheel.
Innovative culture: Why you need it
What should fuel your "innovation why?" Let's look at an excerpt from a feature that Modus' Partner and Chief Innovation Officer, Jay Erickson, published about why innovation should be a part of any company's strategy:
"To look across the business landscape right now is to see a plethora of medium-to-large companies in industries that are being disrupted: In pharma, in healthcare, in financial services, in virtually every industry, there are startups with tremendous amounts of capital angling to knock out the incumbent players.
"These traditional companies ultimately have two options: evolve, or fade away. Since no one wants to be Kodak or Blockbuster — former industry leaders that failed to change — evolve, it is. In some sense, what's required is a return to innovation: After all, it is in the DNA somewhere…the creativity and strategic thinking that helped incumbent players become giants. But that culture disappeared as they matured. Companies know that they need to get back to being innovative."
Aside from the business gains that come from disrupting your company's tried-and-true path toward excellence, committing to cultivating an innovation culture helps foster a sense of belonging among colleagues. This is especially true when they feel psychologically safe enough to bring their whole selves to the table…and along with their whole selves, maybe even some fresh or out-there ideas that might just prove profitable.
Innovative culture: How you build it
"It's vital for [companies] to understand that a successful innovation program doesn't need to be constantly churning out a high volume of new products," says Erickson. "It should be about experimenting and new thinking…two important ways to keep vitality and manage risk of disruption."
To that end, a culture of innovation can look different at different companies. Here are some high-level examples of what you can do to motivate minds:
Encourage colleagues to share outside-the-box ideas (no matter how futuristic)

Consider giving your employees a block of hours to work on their own projects and side hustles…because you never know when they might spark an internal initiative. Modus does this through our Modus Labs program: Each Modi gets an annual block of 40 hours to invest in ideating, percolating, experimenting, and (hopefully) inventing new things. Since we're a digital product studio, we believe in nurturing everyone's creative spark: Creative colleagues make for creative ideas! (If this notion lights your fire, reach out to us here to dive into this unique aspect of our company, and others, which could be beneficial to your own.)

In addition to giving employees the freedom to ideate and create, come up with creative company-wide programs that bring folks together to learn and grow so they feel energized to share their ideas. (Modus has experience with this, too, with a monthly lecture series as well as quarterly, all-company make-a-thons for fostering hands-on creation.)
Innovation culture: Making it work for your company
At Modus — and maybe very similar to the way things are at your company, too — we have multiple disciplinary departments filled with creatives who work in the areas where they shine. And from those departments, we hand-pick teams of experts to execute work for our clients: From UX to UI phenoms, and from engineers, designers, and researchers to content strategists and copywriters, everyone contributes their flavor of expertise toward client success.
Key advice from Modus' Erickson about achieving that same kind of internal success as you cultivate innovation at your company? Create dedicated innovation workstreams and micro-cultures that focus on nothing but thinking outside the box.
"The people focusing on the company's day-to-day need to spend their time there — guiding the traditional business lines and maintaining the status quo — while whomever is responsible for creating new ideas needs to be empowered to do so…both from a resource perspective and a logistical one," he says. "Too often, the innovation group gets bogged down helping manage the primary touchpoints of the business and never gets to actually innovating." 
As the economy becomes more disrupted, we believe that companies that embrace a culture of innovation will be the ones that can stay more relevant (and competitive!) because they'll better adapt to changes in the market and changes in what their customers need. When you think about it, innovation is all about being flexible; and when you simplify innovation to a process of harnessing great communication, collaboration, decision-making, and problem-solving…it feels a lot less complicated when balanced against the boundless rewards.