The Innovation Farm: A 21st Century Replacement for the Innovation Funnel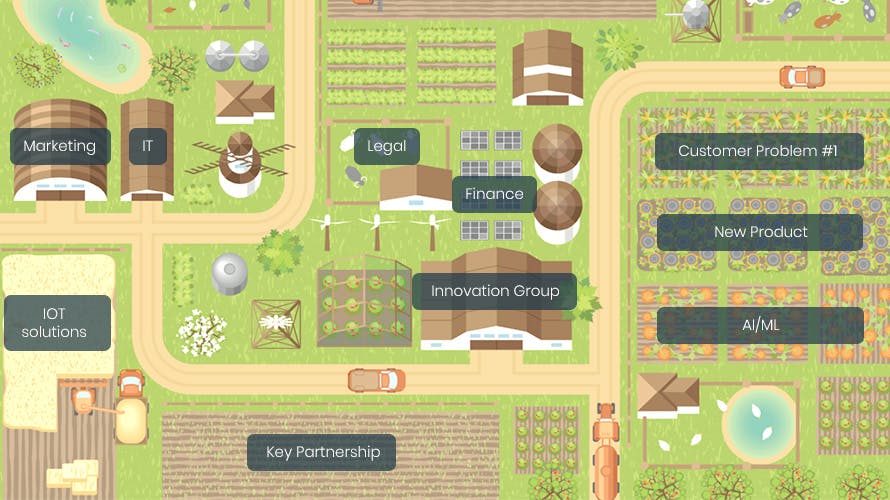 If the era we are living through is teaching me one thing, it is that the time has come to re-examine our institutions and our ways of living and working. Perhaps in this rumble and rubble of disruption we might find the threads of new paradigms and approaches from which we can weave a better future. 
I would like to add the "innovation funnel" to the list of hallowed traditions that can be torn down to make space for something new. Luckily I had the privilege of partnering with Gen Gurczenski, at W.L. Gore last year to come up with a new approach for digital innovation. The result that we got to, with the help of our respective teams, is a model that may just fit the 21st century and not feel like that linear, rigid, and reductive relic of the industrial era that is the innovation funnel. I would like to introduce, "The Innovation Farm."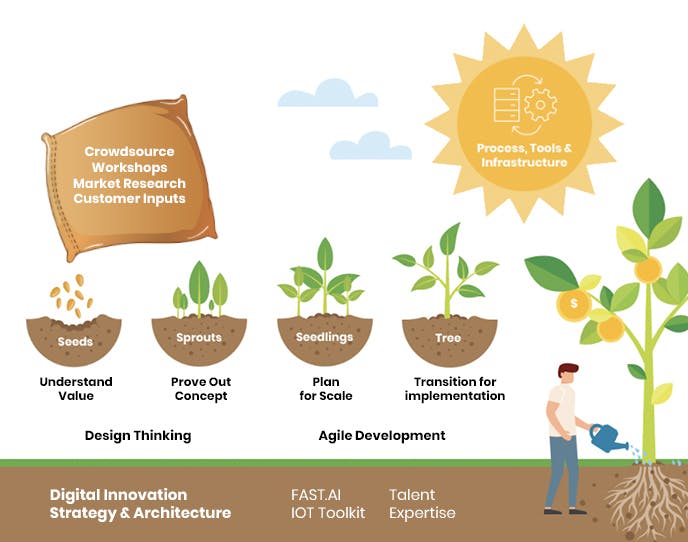 When we started meeting with the team at Gore (btw a company about which 20th century case studies in innovation have been written), it was clear that there was a call for a wholly new approach. They grounded us in complexity theory and graph-based thinking. And even though much of their work is manufacturing that requires industrial processes, their organization is famously non-hierarchical. The firm has organized itself into autonomous pods since their founding in 1958, long before the Zappos holacracy was a glimmer in Tony Hsieh's eye. 
A lot of our warmups for our meetings were nature based (perhaps due to the attention we all had on nature due to it being spring and all experiencing the effect that the pandemic had to drive us to the outdoors). Complexity theory and nature converged as we started to think about evolution and ecology. These are both incredibly powerful processes from which we ourselves sprang and through which the wondrous activities of the biosphere proceed every day with no centralized, hierarchical control process. There are no committees serving as "stage gates" in evolution and no PMO starting each day with a list of activities and tasks for the forest's inhabitants. With a beautiful rule set, energy, and materials, a lot of wild stuff gets invented and work gets done with incredible efficiency.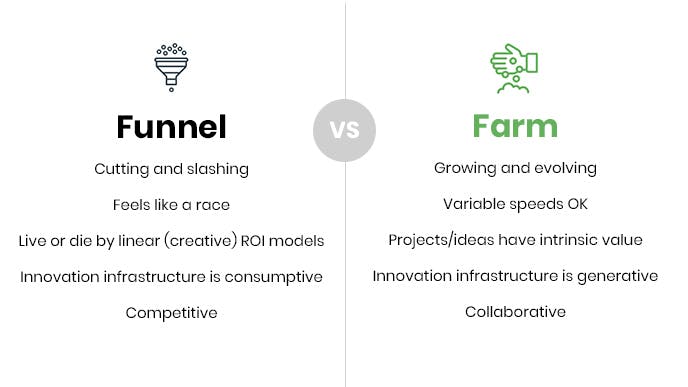 We ended up landing on the farm as a core image for innovation because it connected to a lot of the themes of nature while allowing for production and mindful curation as forces which are necessary for the corporate sphere. Gen and I ended up presenting the model at the Chief Innovation Officer Summit in July last year. So without further ado, here is that presentation with much more on the model: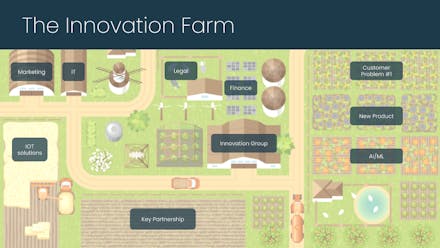 It's not going to solve all of the problems innovation folks face out there but I do believe it is a better, more modern, more human and ultimately more useful model and I hope you may find it valuable in moving towards whatever goals you are working towards. Thank you to Gen and the team at Gore for the collaboration and for allowing us to share this with the world. 
If you have any questions, thoughts, comments or suggestions I would love to hear them and please don't hesitate to reach out.