Wild Talk: Resilient Cities, with Jainey Bavishi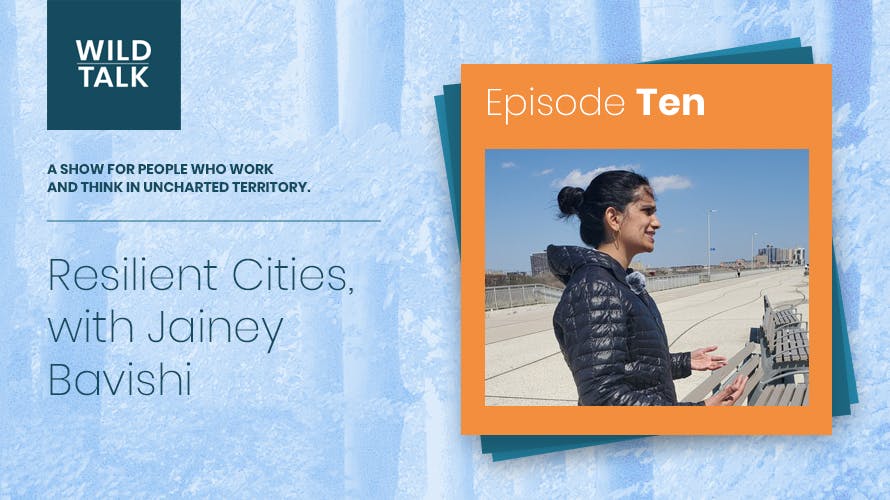 In this podcast episode, we talk to a leading expert on climate change while strolling along one of NYC's recently fortified waterfront communities, Edgemere, on the Rockaway Peninsula. 
"I have a two-year-old now. I want to make sure that wherever she ends up living is livable and she can stay safe and resilient, wherever her future leads her. And that means making the investments and taking the action now. " — Jainey Bavishi
Nearly a decade after Superstorm Sandy caused catastrophic destruction to NYC's coastline, Hurricane Ida recently brought record flash flooding to the region, catching many by surprise and resulting in 38 deaths. Ida was on the heels of Tropical Storm Henri, another instance of extreme rainfall. At the same time, the U.S. just experienced it's hottest summer on record since 1936.
Taking climate change head on, particularly in a concrete-filled urban area with 520 miles of coastline, may seem like a daunting task, but it's Jainey Bavishi's calling. She is director of the NYC Mayor's Office of Climate Resiliency, overseeing $20 billion worth of investment. She was recently nominated by the Biden Administration to lead the National Oceanic and Atmospheric Administration (NOAA), an appointment awaiting Senate confirmation.
In this episode of Wild Talk, "Resilient Cities," Emily Kagan-Trenchard, journalist/producer Matt Dellinger and I stroll with Bavishi between the protected dunes and newly fortified boardwalk along Rockaway Beach, a community still rebuilding from Sandy. As a key person on the frontline of defense against the increasing impacts of climate change, it's her mission to turn climate change response from a reactive, emergency-response approach to one that is proactively baked into infrastructure, land use decisions, and future development. Those decisions grow more complicated in a region where there's already an affordable housing crisis.
"You'll hear environmentalists really pushing the city on retreat saying, 'We need to return this land to its natural state. It needs to be returned to natural wetlands.' Okay, fair enough," says Bavishi. "But ultimately, this is a housing issue, because we also need to figure out where and how we facilitate moves for these folks who probably, even at market rate, can't use that money to buy another home in another part of the city."
We hope you'll tune into this timely episode about weighing risks and scientific approaches to climate change mitigation with equitable housing, community engagement, and the opportunity to improve quality of life while supporting our vulnerable ecosystem.