Modus named one of America's Best Workplaces 2023 by Inc. Magazine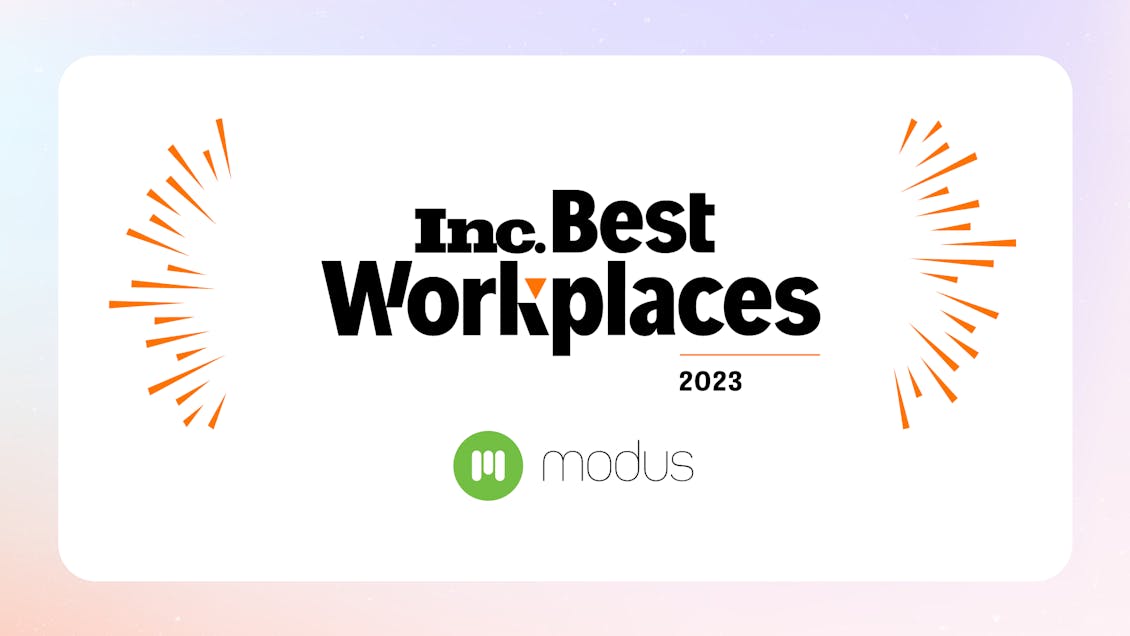 We're thrilled to be a company that puts culture first
Modus is proud to announce that we have been named in Inc. Magazine's annual Best Workplaces list, to be featured in the May/June 2023 issue. The list is the result of a comprehensive measurement of American companies that have excelled in creating exceptional workplaces and company culture, whether operating in a physical or virtual facility.
At Modus, innovation is everyone's business. From quarterly make-a-thons — team-building exercises where the entire company pauses work for several hours to focus on innovation and collaboration — to monthly lecture series where colleagues share their brightest advice and ideas, we are a workplace where learning and expansive thinking are prioritized. By focusing on the health of our internal teams, we're able to better unlock opportunities for our clients to lead their industries and make a positive impact.
"As a global agency that designs, builds, and markets digital products that people love, being human-centered is at the core of everything we do — and that goes for our company culture as well," said Rick Levine, CEO of Modus. "Receiving this recognition is a testament to our talented teams who inspire me every day. We're proud to be a workplace where everyone is supported and encouraged to be their authentic selves."
After collecting data from thousands of submissions, Inc. selected 591 honorees this year. Each company that was nominated took part in an employee survey, conducted by Quantum Workplace, which included topics such as management effectiveness, perks, fostering employee growth, and overall company culture. Each organization's benefits were also audited to determine overall score and ranking.
"Being named to Best Workplaces is an honor that only a small fraction of companies have been able to claim," said Inc. Editor-in-Chief, Scott Omelianuk. "Proving to the world that you're a magnet for talent and have a culture that keeps teams engaged, productive, and proud to come to work is a truly remarkable achievement."
To connect with us and learn more about what we're up to, please join us on LinkedIn.