Modus Labs: From Kaizen to Podcast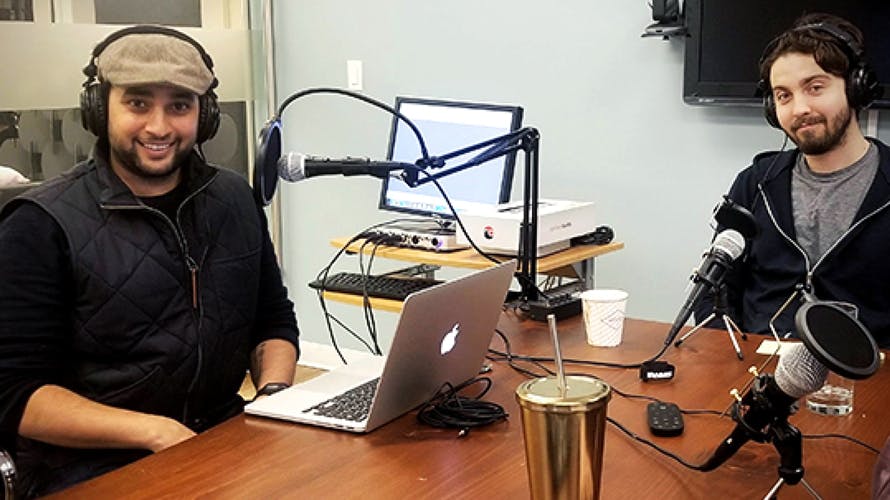 Listen while you read: Modus-Made Podcast — Episode 1

At Modus, creativity runs wild — in the work we do for our awesome clients, and also in passing conversations, unexpected jolts of inspiration, and personal curiosities. Because we wholeheartedly support innovation in all contexts, we created an outlet for these bright ideas: Modus Labs. This is where we share these passion projects with the world. Ready to be inspired?
A recent conversation I overheard at a networking event stopped me in my tracks.
"Joe, what does your company do?" "Well my company is positioning itself to be a leader in the AI and machine learning space this week." "Hilarious! We are redefining our internal processes for supply chain management this month. We just did that 6 months ago!"
Though the gentlemen having this conversation were being tongue-in-cheek with their assessments, I thought, honestly what's the alternative — to never change anything and carry forth with stagnant processes and direction?
On the contrary, I would argue that it's absolutely imperative to evolve. To read and react in kind.
Modus, for instance, adheres to the principles of kaizen, a Japanese word meaning "continual improvement." In business, kaizen refers to activities that continuously improve all functions and involve all employees, from the CEO to the assembly line workers.
As a function of this company ethos, Modus constantly dives deeply into industry trends, emerging technologies, philosophies, and various methodologies for improving what we work on and how we work.
My immediate next thought was that Modus should be sharing these deep-dive insights and exposing the talent and learnings of the company to a wider audience. It just so happened that Modus has an internal labs program that serves as a springboard for prototyping, new initiatives, and experimentation.
With the Modus Labs program on my mind, I had the foundation for the initiative I wanted to start: a monthly podcast in which we talk about reinvention, experimentation, failure, and forward-thinking vision — all in the vein of continual improvement. The Modus podcast was born (or at least the idea was).
Roll Call
After broadcasting the idea internally, the team formed organically. It turned out that our office manager, Phill Lentz, had years of experience producing, engineering, and co-hosting his own podcast outside of Modus.
Kate White, a Senior UX Designer at Modus, was interested in co-hosting, as she was already experimenting with different tools and processes within her own group.
Fellow Senior UX Designer Jessica Honikman was in charge of branding assets and visual materials for publishing purposes.
Jay Erickson, our COO, agreed to compose all of the music for the podcast. With me co-hosting and the copy team helping with scripting needs, the crew was established.
Failing Early
Having brought in some of my podcasting equipment from home, managing to get some guests and rooms to record, we were officially ready to begin recording our first sessions. Google Calendar started to fill up, and the project had legs.
In just a little over two weeks we managed to come up with a loose script and record 4 segments on topics ranging from meeting formats to new front-end technology stacks. We had been humming along and were feeling pretty pleased with ourselves — that is until our internal listening session.
When we started playback of our segments we found a litany of issues including background noise, lost segments, inaudible interviews etc. You name it, it happened. We collectively left the meeting dejected with the understanding that we needed to go back to the drawing board and re-record our segments and start the process all over again.
After much trial and error while troubleshooting our audio issues, Phill was able to isolate the problems and came up with a playbook on proper setup and protocol. Armed with our newly found technique, we loaded up the calendar and spent another two weeks recording.
At the end of this run, we successfully created our first pilot episode of what we called the Modcast. Little did we know at the time, this was not an original name for a podcast — but for a pilot episode that existed as proof of concept, it was everything we needed it to be: finished. Take a listen:
Making the Future: The Modus-Made Podcast
With the lessons we learned, a budget in place, and a new name, we are excited to be moving forward with what started as a Modus Labs project in its new form: the Modus-Made Podcast, your go-to place for listening to our unique insights, perspectives, and ideas.
Topics include:
• Evolution of front-end technology — 1:01
• Meeting formats & Conflict avoidance — 16:13
• Recruiting and people operations — 30:40