KeyMoment: A Digital Companion for Chemotherapy Patients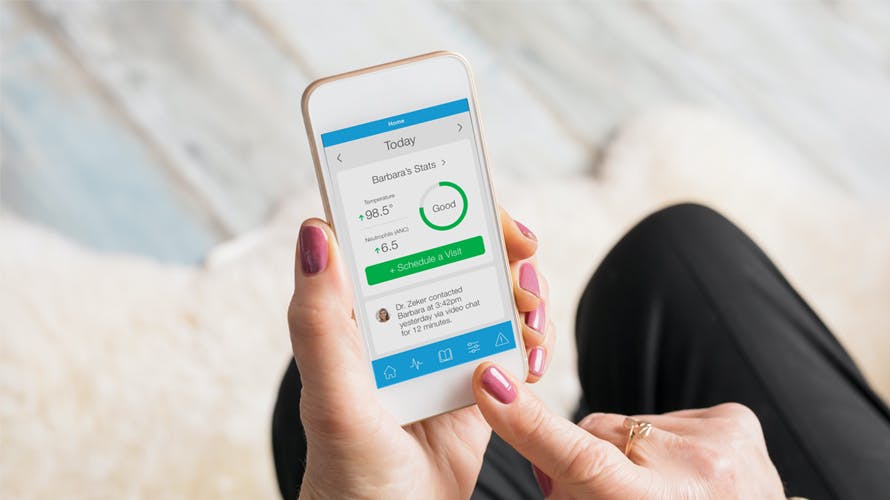 Powerful, lasting innovation tends to happen in the zone known as "the adjacent possible." This term was coined by Stuart Alan Kauffman, a theoretical biologist and evolution expert, and the phenomenon was recently confirmed in a big data project by physicist Vittorio Loreto.
So when I found myself in the Modus Labs brainstorming session I tried to think of what digital tool, based on my direct experience as a cancer patient, would have helped me. What if I could go back in time (cancer free for 5 years now!) and conjure my dream app? Given the limits and possibilities of current tech, what would it be?
Going through chemotherapy treatment is a stressful and scary time that often carries a great deal of medical risk and debilitating side effects. One of the scariest moments of that journey can occur when a patient's immune system is compromised to the point where a common cold could cause major complications, or even death. This state is known as neutropenia and often follows a series of infusions in a given cycle. It often lasts 1–4 days, and then the body recovers, sometimes with the assistance of immune-stimulating drugs.
Navigating this cycle and all of the related complexities can be difficult for patients and their family and friends. It also often occurs when the patient is at home and disconnected from their clinical care team.
Enter: KeyMoment.
Making KeyMoment
Designed by the team at Modus, KeyMoment is a mobile app designed for people going through chemotherapy. It connects family, friends, patients, and care teams so that everyone can be aware of where the patient is in the cycle — and even predict when they might be at risk.
Ideation
As always, we started with collaborative brainstorming sessions to narrow in on "what" we wanted to set out to make: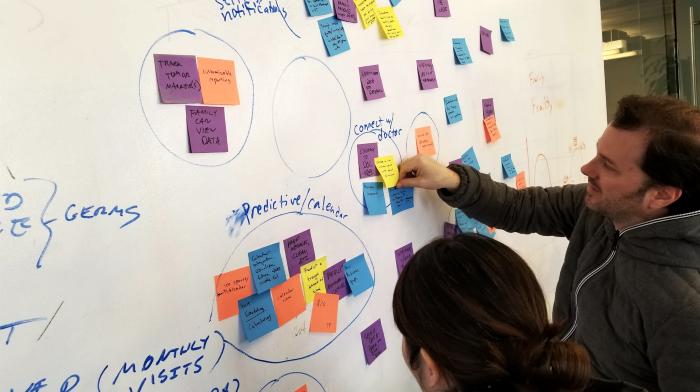 Product Vision Statement
We then developed the following vision statement for the product:
"For patients undergoing intensive chemotherapy as well as their clinical team, caregivers, family and friends who struggle to know when they are or will be at risk of compromised immune function (neutropenia) and related complexities and who often feel disconnected, KeyMoment is an app that brings together key immune function data and risk factors to help patients and those supporting them know how to act and connect at the right times and extends care into the home. Instead of telemedicine apps and neutropenia calculators, our product is connected, predictive, social and leverages advanced home monitoring tools."
Key Features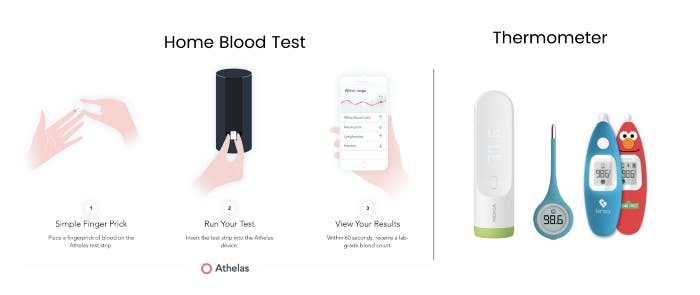 We asked ourselves to "imagine the possibilities" and come up with key features and functionalities of the app that would provide the most value and benefit to cancer patients, and came up with ideas like:
Order rideshare to clinic / hospital from app
Integrate with more devices / data (fitbit, scales, etc)
Visitation management (from friends & family)
Personalized diet, infection prevention & wellness tips
Track tumor markers
Track neulasta injection
Medication management
Food delivery
Connected Devices & Data Flow
It became clear that connected devices, like home blood tests and thermometers, are a key component of the app, so understanding the data flow was important: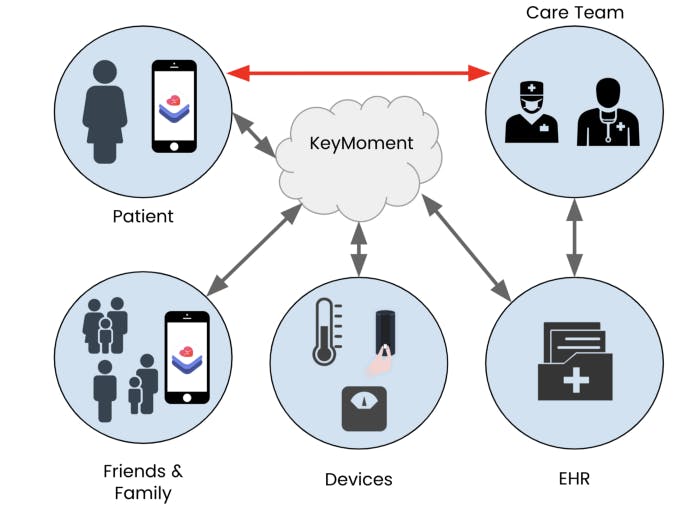 The Prototype
The end of this process saw us creating a prototype for KeyMoment.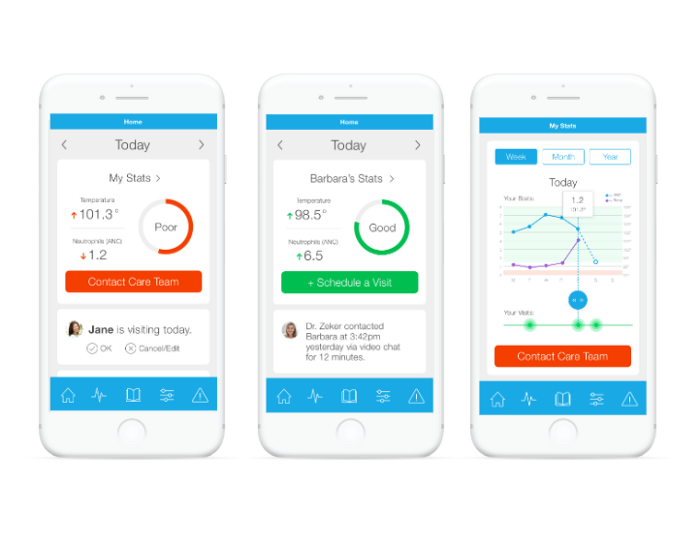 The app provides visitation guidelines appropriate to the treatment stage the patient is in, and it even prompts family and friends to reach out to patients when they may need extra support, as neutropenia often correlates with low energy and higher incidence of other side effects.
The app integrates with a digital thermometer and a home-testing kit to monitor neutrophil counts. It also connects to the electronic health record (EHR) system at the care provider. This enables data syncing from the provider to the patient and family and sends home data back to the EHR, which provides the clinical team with a more complete picture of the patient.
Proactive alerts and simple ways to quickly connect are critical parts of the experience, primarily to address dangerous cases when a patient has a fever and a low neutrophil count.
What's Next?
KeyMoment is another tool in the fight against cancer to improve outcomes and patient experiences. Modus is excited to move toward launching this product to help cancer patients and their loved ones. If you are interested in learning more or supporting the project, please get in touch.