How We Hosted a Video Game Design Make-a-thon Remotely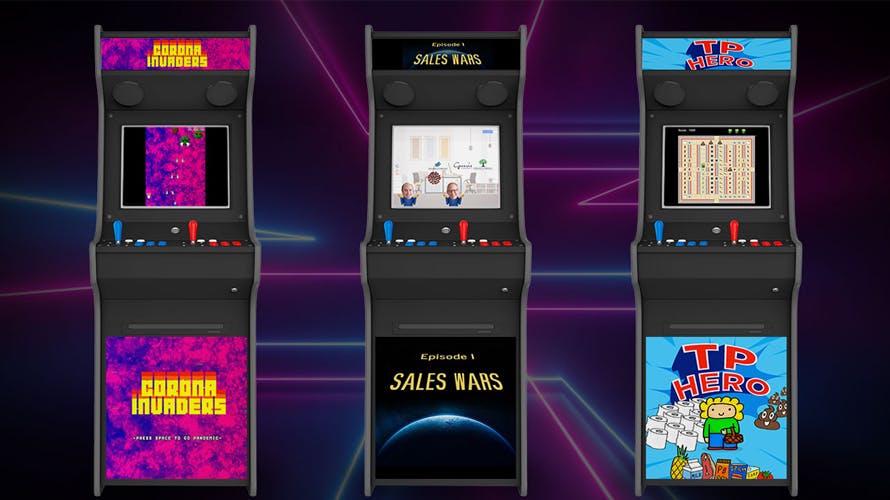 When we first started planning our spring make-a-thon — our quarterly team-building exercise focused on innovation — we expected that we would be in our physical offices, collaborating in person and scribbling on whiteboards as usual. We could not have imagined that a global pandemic would disrupt many of the norms of office life across our three locations (New York, Buenos Aires, and Manila). After we quickly transitioned to working remotely, we soon realized that our make-a-thon could continue as planned, since we had the good fortune in choosing an activity that could be completed virtually: video game design.
Our quarterly make-a-thons bring together multidisciplinary teams with diverse skill sets — engineers, designers, architects, strategists, project managers — to complete design sprints that encourage cross-collaboration, problem-solving, and out-of-the-box creative thinking. We pause client work for a short period of time as we focus on learning new technologies and having fun. Past themes have included IoT, chatbots, industrial design, and our client ADP's API marketplace, to name a few. The choice of video game development was a natural one, as we Modi are avid gamers, and the opportunity to explore this creative outlet was met with enthusiasm.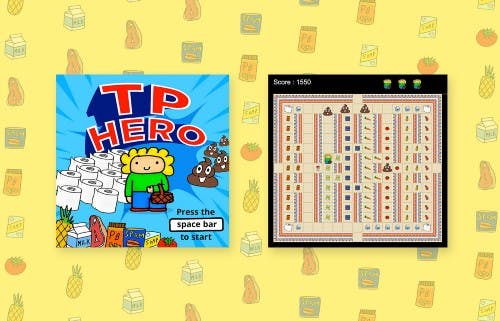 3rd Place: Toilet Paper Hero
In Toilet Paper Hero by NYC 2 (Tae Sayama, Xavier Otero, Jon Raitses, Kate Diago, and Kristina Vogel), you are shopping for essential groceries but you must avoid the roving poopmojis or you'll lose one of your three lives. Collecting toilet paper will give you some immunity, but not for long.
In order to build the games remotely, we needed a web-based game development platform that was easy enough to learn quickly. We landed on Construct 3, which doesn't require coding (although you can add JS scripting for more advanced logic), and has a visual development environment similar to Visual Studio IDE and Android Studio. We put together a handy tutorial based on Construct 3's support documentation to guide basic game development and shared some sprite resources, such as CraftPix, Itch.io, and Kenney. Construct 3 also has a set of featured templates and behaviors that make it easy to get up and running. Other tools that helped us complete this activity remotely include Slack for private team chats and Zoom for video conferencing.
Pre-Make-a-thon: Intro to Game Design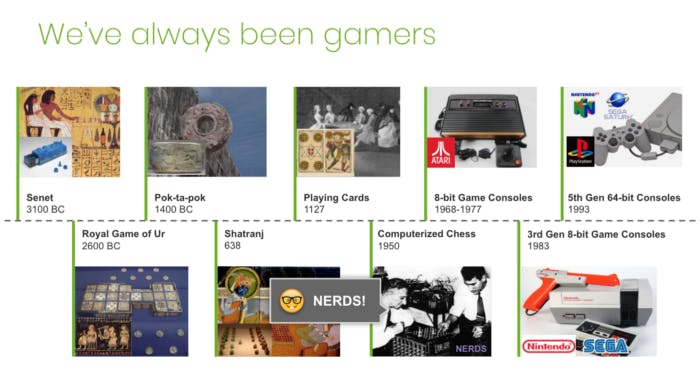 Before diving into the make-a-thon, our UX team hosted a company meeting to share the history of games and explain various gaming styles and techniques. We'll spare you the play-by-play (pun intended), but to summarize, humans have been playing games perhaps since the beginning of time, such as Senet, an Egyptian board game dating to 3100 BC. The introduction of gaming consoles in the 1970s brought the culture of gaming into people's homes, and now with mobile games being released constantly, gaming is a $68 billion dollar industry.
Of course, as the COVID-19 outbreak has many people worldwide confined to their homes, record amounts of gaming is taking place. Game play provides a welcome distraction from the bad news cycle and the stress of this moment, not to mention gaming's power to combat boredom.
To help set the stage for our make-a-thon, the UX team also went over what constitutes a good game:
Story: the game's theme and purpose
Goals: what makes the game challenging
Rules: the boundaries and conditions that must be met to achieve the goals
Mechanics: the interactive functions such as actions and consequences
Interface and art: the theater of play
Gameplay: all the elements combined that make the game immersive and experiential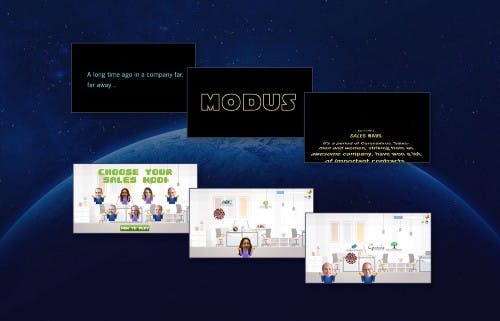 2nd Place: Sales Wars
In Sales Wars by Buenos Aires 2 (Fernanda Riffel, Matias Gimenez, Juan Speziale, and Luciana Boasso), you choose a member of the Modus sales team and it's your mission to win new clients, all while avoiding Coronavirus, in order to restore peace in the company universe.
Divide and Conquer
Next, we divided into teams that ensured each team had at least one designer and one programmer. We also went over some basic guidelines:
Keep it simple. Teams were only given two hours to complete the game prototype.
Extra points would be given for multiplayer games.
Finish on time — make sure it's playable.
Put your time to good use. Start collaboratively and split up work as needed.
Start small. Get something done and work from there.

As we divided into our teams and brainstormed concepts, some teams found that two hours was not enough time for the design sprint, so the deadline was extended to make sure all teams could finish their games and export them to an HTML5 web platform. The make-a-thon culminated with a company-wide show-and-tell on Zoom, with each team introducing the story, action, and strategies behind their games as we were invited to play along. We were all excited to show off our hard work and see what the other teams came up with. Naturally, many teams were influenced by the pandemic and Coronavirus was a common theme, with a few exceptions. The ways each team approached this challenge were delightful and surprising.
Without further ado, check out Modus' winning video game, and see the other contenders below:
1st Place: Corona Invaders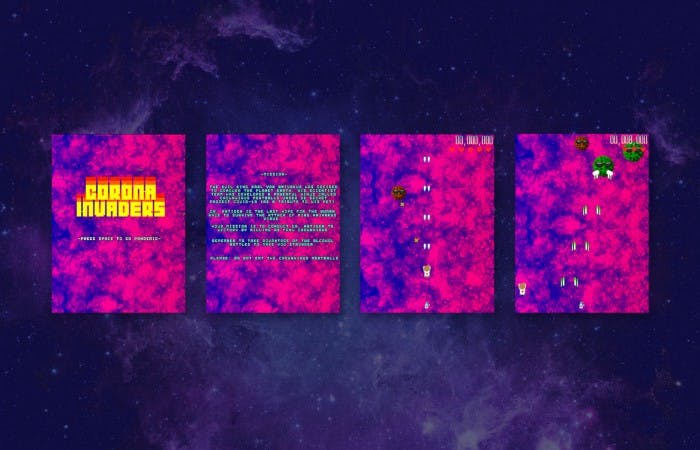 In Corona Invaders by Buenos Aires 1 (Glenda Ortega, Daniel Davico, Juan Pedemonte, Alberto Quiros, and Ana Barrionuevo), you are Dr. Antigen, and you must kill the Coronavirus Meatballs to save the planet. If you eat the meatballs, you lose strength, while catching hand sanitizer will make you stronger (naturally).
Honorable mentions:
Lockdown by NYC 1 (Smadar Mavor, David Bebawy, Selena Ricks, Abi Stock, and Jay Erickson)
Gliders by NYC 3 (Kristen Kulenych, Tom Foley, Skyler Bailey, and David Gould)
Miami Virus by NYC 4 (Kevin Caldwell, Rick Levine, Rich Wells, Michael Stineman, and Tulsi Patel)
TapJack by NYC 5 (Graham Ericksen, Nicholas Lituczy, Sonny Fitzsimonds, Asim Mittal, and Allison Sromek)
Surviving Argentina by Buenos Aires 3 (Nicolas Mercado, Teresa de Hertelendy, Luis Sanchez, Leandro Curzi, and Nicolas Wyler)
Nurse Joy vs. Virus by Manilla 1 (Shirley Vergel de Dios, Lamuelle Vianca Ong, Maryanne Sodela, John Paul Ramos, and Bonifacio Lopez III)
Seeing so many of our talented team members come together and have the opportunity to explore new ideas and create entertaining games was very gratifying. We hope you enjoy playing these games as much as we enjoyed making them!
Special thanks to the Modus Make-a-thon planning team: Tom Foley, Nicholas Lituczy, Nicolas Mercado, Glenda Ortega, Juan Pedemonte and Juan Speziale.