How grocers are leveraging tech for innovation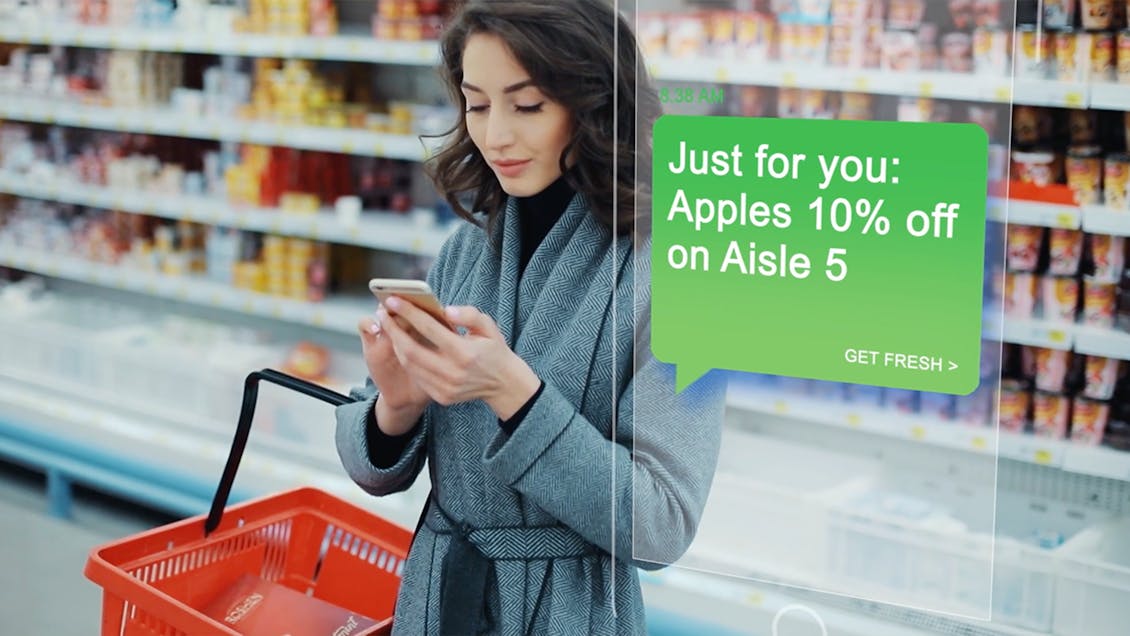 Our latest labs concept explores what's in store for the supermarket of the future
There are many "new normals" to come out of the pandemic. One of the most significant shifts in behavior is consumers' willingness to order groceries through mobile apps and websites (an increase of 210% during the height of lockdown). 
At the same time, the brick-and-mortar store is still where the majority of consumers purchase groceries, and grocers are struggling to keep their stores and warehouses staffed. New tech-first market entrants are changing the game, and investing big in innovation. Leading grocers have joined the fight against food waste, which presents an opportunity to be a force for good and align with Gen Z customers' concerns. Add to the list of challenges issues such as supply chain shortages and inflation, and tech's potential to bolster efficiencies is significant. 
This period of rapid change has pushed grocery retailers to invest more in technology to meet shopper expectations — as much as a 54% increase year-over-year, despite razor thin margins. At Modus, we know that the tech needed to improve the grocery experience exists today. It's just a matter of leveraging innovation in practical ways. We've created a quick video to highlight some of the tech on the shopping list for the supermarket of the future, such as collaborative shopping apps, cryptocurrency rewards, and AR/VR.
Looking deeper, here are a few more technologies that could impact the next generation of customer experience, sustainability, and store operations.
AI for smarter shopping
Just as artificial intelligence (AI) and machine vision have made advancements in warehouse operations with repetitive tasks such as food sorting, these technologies can also be used in the home. In recent years, the increased accuracy of on-device neural networks has made it possible for perception technology to run on smartphones.
While there are mobile apps such as Our Groceries that allow users to build recipe-ready shopping lists, most consumers still rely on pen and paper. In the future, we could use AI image recognition to quickly identify which types of goods are in our homes, such as meats and produce. Solutions like ImpactVision (acquired by Apeel) use machine vision to process hyperspectral images of produce, identifying qualities from ripeness to nutritional information.
So it's not too difficult to imagine using your smartphone to scan the items already in your fridge and pantry, and using your favorite online grocer to add those essentials that are missing. Not only could a smart solution offer a holistic picture to help cut down on waste, it could also get to know your preferences and serve up personalized recommendations, recipe ideas, and nutrition tips.
Location-based loyalty
To drive engagement into the physical store, retailers can activate the one thing consumers carry with them everywhere at all times — their smartphones. Customers opting into GPS tracking can receive SMS alerts or app notifications offering promotions when they are near the store. The immediacy of mobile makes it an ideal channel for offering loyalty rewards and experiences. For instance, a supermarket can offer a flash sale on items that are overstocked and reward extra loyalty points to shoppers that purchase in-store, knowing that they're more likely to buy additional items once inside.
Other use cases include alerts for curbside pick-up, appointment reminders, or even abandoned cart alerts. In turn, retailers can use customer location data to analyze traffic patterns, behavioral trends, dwell time, and more. Those insights can inform predictive models for staffing, inventory, grab-and-go quantities, and more.
Inventory tracking to combat food waste
The United States is the leading nation in food wasted. Between 30 and 40 percent of what is grown in the U.S. is thrown away, which amounts to 133 billion pounds of food annually. The economic, social, and environmental consequences are tremendous. The good news is that technology offers robust ways to combat food waste, and there's a strong business case for doing so.
Grocers today are leaning on technology to automate inventory management as they navigate supply chain constraints and combat food waste. Solutions like Pensa, which uses shelf scanning AI-powered machine vision, can enable more accurate demand planning. An analysis by Rethinking Food Through Economic Data (ReFED) found the business profit potential of waste-tracking and analytics platforms at $1 billion, with a potential for diverting 570,000 tons of food waste per year. 
Grocers can also empower consumers to do their part in the fight against food waste, all while saving money. Wasteless, an Israeli-based startup, created an AI-powered dynamic pricing tool that lowers the price on perishable food as the expiration date nears. Solutions like these pack a bigger punch when integrated with omnichannel strategies like mobile alerts and loyalty rewards to help customers stop the store-to-wastebin cycle.
What's next?
Over the past two years, we've all been reminded of the essential role that grocers serve. Modus is excited to partner with leading grocers to implement innovative, human-centered solutions to improve the customer experience as well as tackle problems like food waste. 
If you're interested in learning more about the effort to bring future-forward grocery tech to life, or would like to learn more about Modus and how we might help you accomplish your goals through digital innovation, we'd love to hear from you at hello@modusagency.com.