Healthcare in 2030: An innovation workshop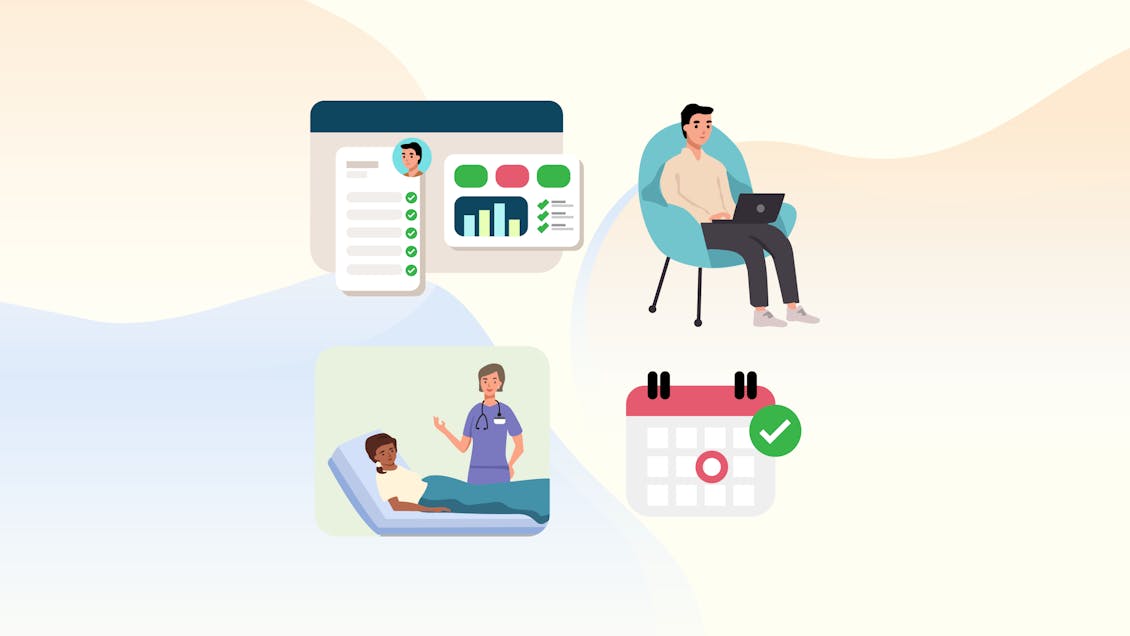 Bringing the future of healthcare to life at NextMed Health 2023
Imagine waking up in the year 2030. You glance in the mirror to start your day. A gentle voice emanates from the mirror stating your vital signs and says that your blood pressure is low. The voice suggests that you drink more water, eat more salt, and avoid caffeine today. It's also time to schedule a dermatologist appointment — you have an abnormal spot on your left cheek. 
This is just one of the scenarios dreamed up by healthcare professionals at a recent event, NextMed Health 2023. During the conference, Jay Erickson, Modus' Chief Innovation Officer and Dr. Yauheni Solad, VP of Innovation at UC Davis, led a design thinking workshop, "Dreaming Into Care Delivery in 2030," on behalf of Modus and NODE.Health.
Workshop attendees were given an overview of the design thinking process — a disciplined, scalable framework for innovation. At Modus, we like using Google's design sprint methodology, which uses six steps: understand, define, sketch, decide, prototype, and validate. With a time limit of two hours for our workshop, we only focused on the initial steps — understanding the problem(s) to be solved, sketching possible solutions, and deciding on a few concepts to develop.
When it comes to dreaming up ideas for the future, what we are asking people to do is to create new solutions for unmet or unarticulated needs. Before splitting into teams to rapidly ideate, workshop attendees were given some critical background criteria:
Who: Examples of personas that the group would be designing for (a young mother going through breast cancer treatment, an elderly widower facing chronic stress, an overworked physician looking for efficiencies, etc.)
What: Examples of current problems in the healthcare system (access to care, equity and inclusion, nursing shortage and burnout, just to name a few)
How: Examples of emerging technology to help spark ideas (AI and machine learning, AR/VR, wearable tech, etc.)
With these materials (and plenty of sticky notes and sharpies), teams set out to foster an innovative mindset and share their individual expertise to imagine meaningful, valuable ways of meeting the future needs of patients and providers. Teams were then challenged to choose one concept to develop. After the workshop, the conceptual sketches were interpreted by Modus designers to create visual prototypes. Below, we've highlighted the concepts from each team. 
Concept: Dr. Pro-ponent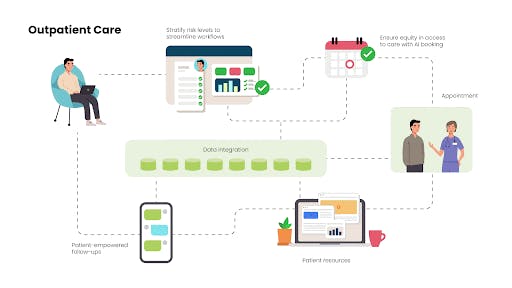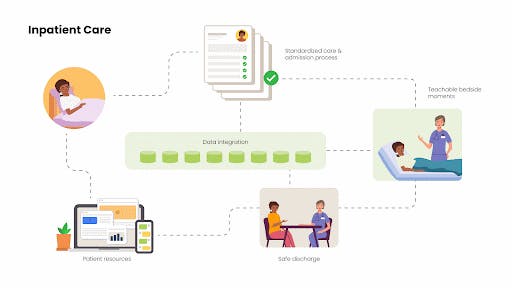 This concept was designed to solve the problem of healthcare providers having to deal with too much paperwork. Research such as a 2016 study by the Annals of Internal Medicine have found that doctors spend a majority of their time doing administrative work — nearly twice as much time as they spend with patients. What if doctors had access to fully integrated, streamlined patient records, with AI helping to automate triage so that the most critical cases are scheduled first? Dr. Pro-ponent is a platform that will do just that, as well as standardize in-patient care so that providers can deliver more engaging care, faster. With better patient data available, providers can offer more teachable bedside moments, safely discharge patients with the right medication and information, and deliver ongoing resources and a network of care. Rather than put the burden on the patient to keep calling for medical appointments and care, Dr. Pro-ponent streamlines care and helps providers build a digital brand.
AI is being heralded for its potential to close health equity gaps, improve patient outcomes, and reduce clinician burnout, but of course trust in AI relies on the quality of data available. According to Harvard's School of Public Health, AI can potentially save the medical industry upward of $150 billion in costs by 2025. Other estimates show that improving outcomes through reducing health disparities can drive $3 trillion in annual incremental GDP, per McKinsey.
Concept: Luna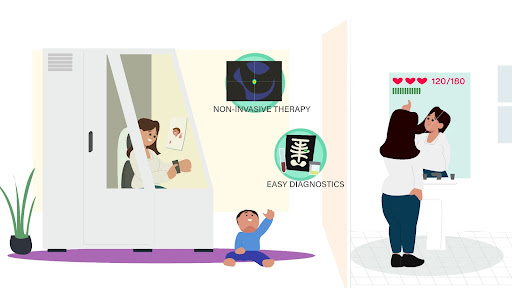 The Luna concept was created to address pain points for a specific persona, a 39-year-old stay-at-home mother who is managing chronic stress as she faces a stage 3 breast cancer diagnosis. What if she could receive care in a way that reduces her stress levels, rather than adds to it? Luna is a platform of at-home physical, connected products that deliver real-time medical advice and care. The Luna mirror in her bathroom scans her vital signals, updates her with real-time information about her condition, recommends foods for her to eat and supplements for her to take, including scheduling information. In her living room, the Luna treatment pod is a closed-off space where she can sit and receive non-invasive cancer treatments, get diagnostics through her smartwatch, and use a telehealth platform to talk with her provider, all while being able to keep an eye on her children through glass windows.
While COVID-19 accelerated adoption of telehealth and at-home healthcare, home administration of cancer drugs is currently underutilized in the U.S. Pilot programs such as Penn Medicine's Cancer Care at Home, and Memorial Sloan Kettering's telehealth research center, Making Telehealth Delivery of Cancer Care at Home Effective and Safe (MATCHES), have shown to reduce patients' time spent in hospital and increase their levels of satisfaction.
Concept: Simon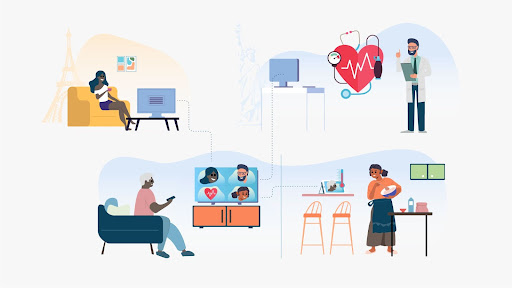 The Simon concept was also created to solve pain points for a persona shared during the workshop: a 78-year-old retired man whose wife recently died. This patient's main challenges are loneliness, declining health (he's losing his hearing, has joint pain, and has trouble sleeping), and he is digitally "behind the times." What if he had a digital companion that not only monitored his health, but also improved his connections with his long-distance family and friends? Simon is an AI-powered digital assistant and communication platform that includes a variety of IoT devices, such as a connected refrigerator that suggests what to eat and which groceries to buy, a smart mirror that can give diagnoses and even take x-rays, and a smart screen in the living room where patients can have video chats with family members, healthcare providers, and friends. The platform includes an app where patients can combat loneliness further by meeting new friends and romantic interests, they can play games and activities with friends and family, such as grandchildren. Ideas also include partnering with senior organizations such as the Adopt a Grandparent program.
Even before the pandemic, 40 percent of Americans over age 60 reported feeling lonely. Studies show that longer durations of loneliness lead to faster mental decline. The Simon team may be onto something — New York is piloting at-home robot companions for seniors. 
The future of healthcare is human-centered
By 2030, a new generation of patients will expect consumer-centric healthcare experiences. They will be more knowledgeable and active in their care. At the same time, workforce shortages will lead the industry to rely more on technology automation and expand digital health.
With methods such as design thinking, we can understand users' needs and create innovative solutions that deliver real impact. The future of the healthcare industry can leverage technology to improve outcomes — but doing so will require proactive momentum and experimental mindsets. Interested in a design thinking workshop like the one we led at NextMed? Contact us today to learn more about our approach to innovation.